Lease Return Center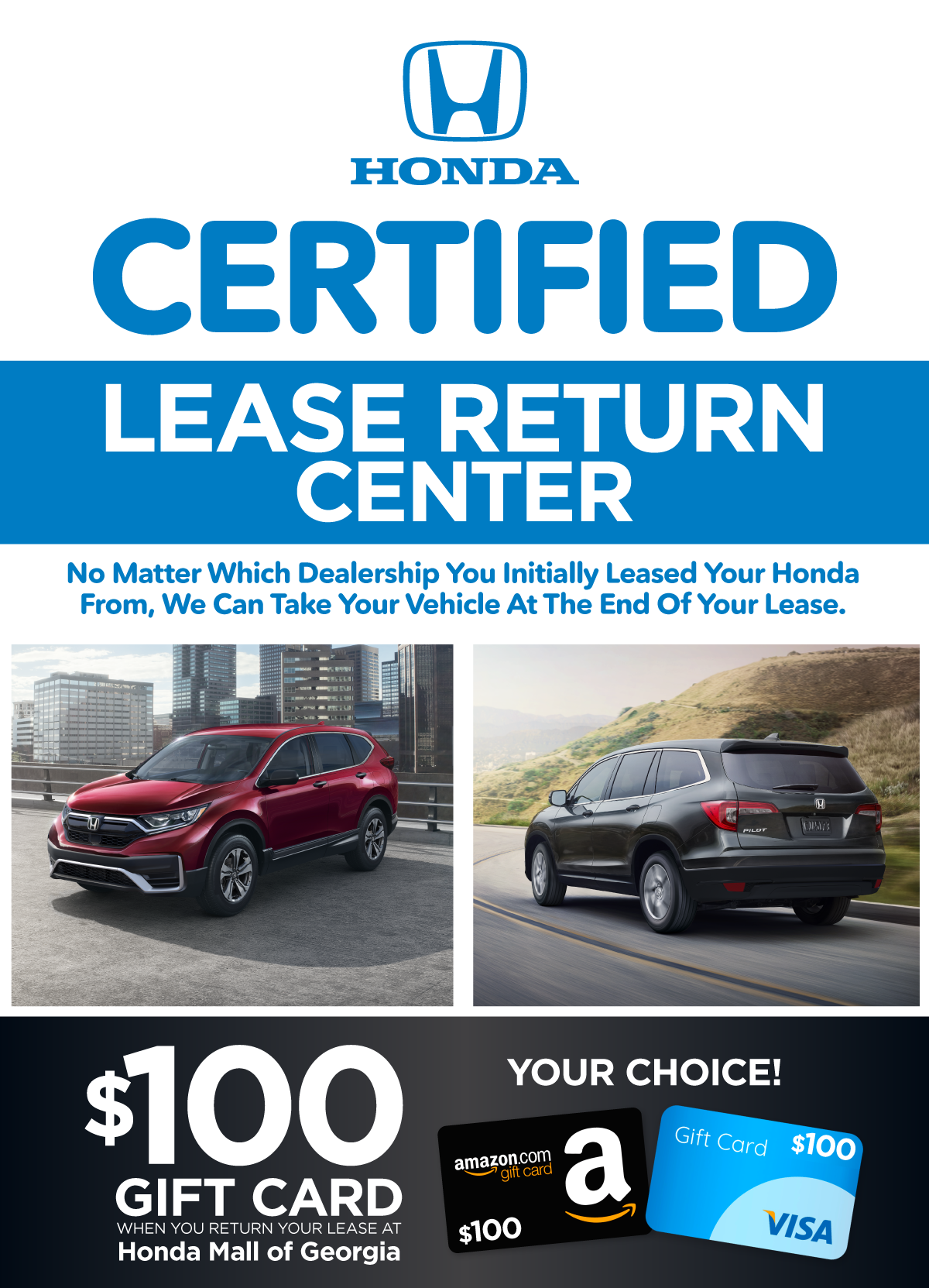 Now that your lease is almost up, you may be wondering what's next.
It's a good idea to start thinking about your lease-end choices, especially if you have 6 months or less remaining in your lease. With most leases you generally have four options:
Option 1: Return your vehicle and lease a new one from Honda Mall of Georgia.
This option is convenient, easy, and best of all, you get to drive off in a brand new Honda.  Honda Mall of Georgia will be happy to show you the latest models and discuss your options. Browse our selection of New , Certified Pre-Owned , and Pre-Owned Vehicles  is a great place to start.  You can also visit our Specials section for more information about our current lease and purchase offers. Also when you lease or purchase from Honda Mall of Georgia, every new vehicle comes with a 3 Year Maintenance Plan – No Charge! Feel free to call us at 888-579-8650 for more information.
Option 2: Return your leased vehicle to Honda Mall of Georgia .
If you select this option, your lease concludes when you turn in the vehicle. You will need to schedule a free vehicle inspection during the last two months of your lease. You will be responsible for any outstanding payments, excess wear and use, excessive miles, and any other end-of-term obligations specified in your lease agreement. We accept lease returns during our Showroom Hours Monday-Friday only.  Feel free to callus at 888-579-8650 for more information.
Option 3: Purchase your leased vehicle from Honda Mall of Georgia.
Buying your leased vehicle is a great way to continue benefiting from its reliability, performance, and high resale value. If you decide to buy your vehicle, there is no need to have it inspected, since there are no excess wear and use or excess mileage charges to worry about. Feel free to call us at 888-579-8650 for more information about purchasing your lease.
To find out your purchase amount, you can get a payoff from your financial institution.
Attractive financing rates  may be available for lessees who wish to purchase a leased vehicle. Contact Honda Mall of Georgia for details about our Lease to Retail Rollover program.
Option 4: Extend your lease from Honda Mall of Georgia.
If you're interested in keeping your leased vehicle a little longer, or you just want to wait for a new Honda to come in, we will consider extending your current lease. You can, in most cases, extend your lease for one or more months at the same monthly payment. Honda Mall of Georgia can provide details about extending a lease.
*Additional charges may apply such as a lease termination fee, disposition fee, inspection fees, safety repairs, excess mileage above your contract terms, and any excessive wear and tear on the vehicle. Other terms may apply. See dealer for details.